As I was reading through all the blogs I follow I came across Friday Fill-Ins on
Paula's blog post
for today. So, I did as she suggested and went over to
Kristen's blog
to check hers out. After looking over both of their posts I decided to give it a go. If you'd like to give it a go check it out.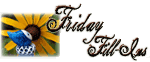 1. The world is
very large
.
2.
"Oh, you want to go downstairs?"
was the last thing I said
talking to Misa, my dog, after we played around with her toy. She wanted a drink from her water dish!
3. I wonder
how the changes that the new U.S. President Obama makes will affect Americans
.
4.
We should be more in love with our Father God in Heaven
at the end of all things.
5. There's something to be said for
blogging
.
6.
In Heaven with God THE Father,
is where I want to be.
7. And as for the weekend, tonight I'm looking forward to
dinner with my wonderful husband
, tomorrow my plans include
seeing a client
and Sunday, I want to
be with my church family praising & worshiping God!