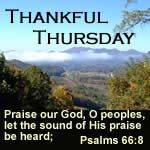 I am joining with Greg C. over at
Greg's General Store
and Laurie at
Women Taking a Stand
for
Thankful Thursday today.
Click the respective image and/or links above to join in. Greg is our new sponsor/host. Laurie is not new but it's her turn in the rotation cycle of hosts.
It's an honor to be supporting both these TT Memes. Thank you to those who keep them going. It's a great way to honor God and to encourage and bless others.

Today, I need encouragement and support. I have a struggle going on inside me.

I want to give thanks to God for remaining steadfast and faithful to me. HE is my strong-tower.


Psalm 61:2-4
2 From the end of the earth I will cry to You,
When my heart is overwhelmed;
Lead me to the rock that is higher than I.
3 For You have been a shelter for me,
A strong tower from the enemy.
4 I will abide in Your tabernacle forever;
I will trust in the shelter of Your wings. Selah

Even though times get tough, You remain strong and protect me. Praise Your holy name.